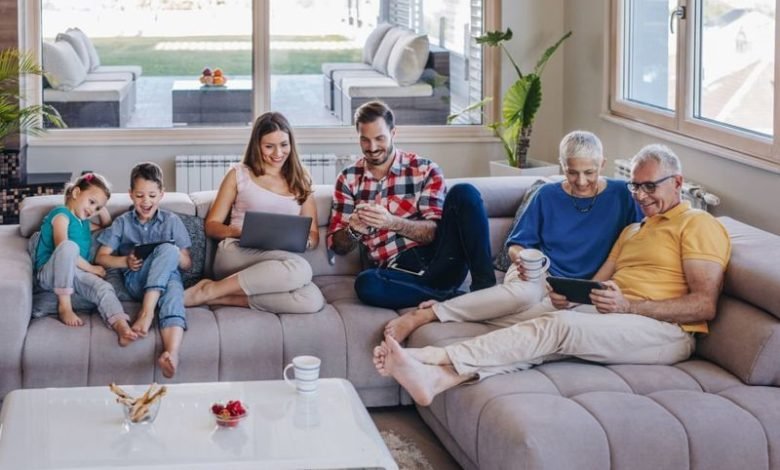 It's no secret that there are now more grandparents living with families than ever before.
Multi-generational living is becoming the new norm, and (as with every new trend) there are some best practices that can help make it work for everyone involved.
This article will teach you how to create a home environment that is comfortable for both children and grandparents alike.
It will also share ideas on how to make your home more multi-generational friendly by incorporating the needs of all generations into your design and lifestyle.
Designing Your Home With Aging in Mind
You may have not considered that you'd be sharing a home with your parent or parents again as an adult, but there are many families for whom this is the only choice.
Whether a parent has become single again or needs some additional care, sometimes the answer to creating a more multi-generational household is to make some changes.
Whether you live in an apartment, condo, or single-family house, it's important to consider how design decisions will affect everyone.
Before you begin any project that may involve moving furniture around or even painting the walls, make sure that your parent(s) can navigate their way through the space easily and comfortably on their own two feet.
Importantly to remember, as we age and become less able to get around independently, bathroom accessibility becomes an ever-increasing concern.
Creating An Effective Private Space
Privacy is important at every age, and privacy will be important for your elderly parent or parents.
They should have their own room to retreat to when they want some peace and quiet.
They should have their own bed space (check out Reinforcedbeds.co.uk for some lovely options) and furniture that is comfortable and safe for them to use.
If there is only one bathroom in the home, your parent(s) will probably need some adjustments such as grab bars and a shower chair to keep them safe.
Kitchens And Stove Safety
Cooking is one of life's great pleasures, but if you live in a multi-generational household, you'll need to be prepared for it to become more of a challenge.
Make sure that your parent(s) can safely reach the stove on their own before you purchase any new appliances.
If you do purchase brand new appliances, look for ones that are height adjustable, or even a model that is completely accessible and easier to use than an old-fashioned stove.
For ovens and microwaves, make sure the knobs are large and easy to turn without assistance.
Kitchen cabinets should also feature clear glass doors that make it easy for your parent(s) to see what they're looking for without any assistance.
Create A Healthy Environment For Elderly People
Just because you might not think of your elderly parent(s) as being particularly vulnerable to illness and accidents, that doesn't mean they should be exposed to risk.
What happens when they are no longer able to handle the stairs? What happens if they need help bathing or getting around the kitchen?
Some simple changes can keep them safer and healthier in the home.