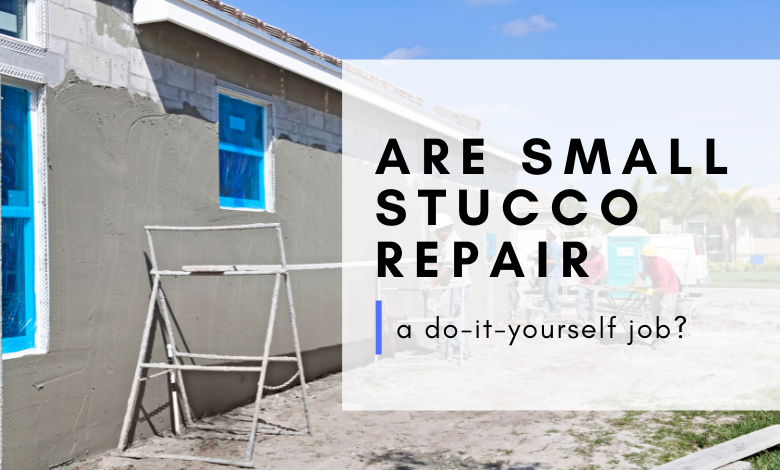 Who doesn't want to enhance the aesthetics of their home while repairing the exterior? We all do! Stucco repair is one such job we like to DIY during our fall break. Before winter arrives, one of the essential things to do is to ensure proper maintenance of our home for better security. While DIY is good, hiring a professional to do it with expertise with the proper tool in your budget which can last a lifetime, is a bonus.
4 ways to identify my stucco needs repair
Due to being a porous material, stucco retains water and falls off suddenly or tears start appearing. Here are 4 ways to identify major stucco repair:
Lackluster installation: If badly installed, cracks start appearing on the foam. If the seam is not connected neatly;y, chances are high that stucco starts cracking or falling. Immediately call stucco contractors and request them to finish the work. First request them to finish the base coat neatly so that insects don't enter the stucco.
Water stains: If you spot red or brownish water spots, it means water is getting retained through the stucco. Water droplets are forming as there are no other ways to escape. If you notice lines below the window intersection, leakage at door base, foul mold-like smell, discoloration here and there, stucco exterior immediately. But first, find the source of the water leakage.
Cracks: another sign you need major stucco repair is when cracks appear. cracks can appear for a host of reasons: Kids or pets can create holes while playing and dilly dallying, heavy objects or equipment accidents fall and impact the finish. Strong wind to loosens up stucco.
Rust damage: Rust damage can lead to permanent stucco damage and you would have to buy new stucco for your home. If identified quickly, professionals can stucco repair immediately. If rebar rust is there, which is not visible to the naked eye, only professionals can find the and stucco repair them before they damage the concrete.
How to DIY stucco repair
Step 1: Mix small batches, mix different amounts of pigments each time until it matches the color. Do this step before starting to repair.
Step 2: Use mason's chisel and hammer to chip away old stucco, and apply a scratch coat to repair cracks.
Step 3: After the scratch coat is applied, use a notched trowel to scratch the groove in the mud to help the stucco adhere better.
Step 4: After the scratch coat dries and sets for 24 hours, use sponge water to help the next layer called "brown coat" adhere better.
Step 5: Spread the new stucco layer evenly, then level with a straight edge to ensure the coat is flat and level.
Step 6: make sure the final coat is thick and leveled.
Step 7: Use a sponge to give texture. You may paint the entire side to hide the patch if you haven't used pigment before.
DIY stucco repair vs hiring a professional
Stucco repair is a sign of a larger issue. If stucco is not mixed properly, it will fall off, needing to be repaired regularly. Only a professional can peel the top layer and reapply stucco for the longevity of the home.
Improper installation of expansion joints, not properly applying base coat can lead to crack. Again, a professional can peel the top layer and reapply the base coat neatly to the job to perfection.
Extreme weather, seismic activity leads to larger stucco damage which only a professional can unearth. Save money from larger issues leading to higher costs than just reapplication.
RELATED POST: How To Hire The Right Stucco Contractors?
Why hiring professionals for stucco repair is a smart choice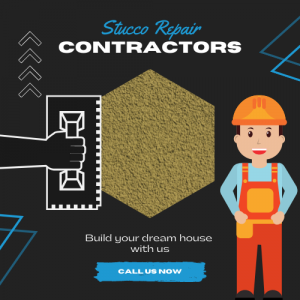 Stucco repairing can last your lifetime if done right. To maintain the attractive look, you need to sustain the exterior by professionals. They help in:
Durability: If done right, stucco repair can last 60 years or more with little to no maintenance. A professional can make your stucco waterproof, mildew, and mold resistant, irrespective of the changing seasons.
Color retention for years: apart from making your home robust, professionals can mix stucco with paint while stucco repair; and the pigment will last you a lifetime.
Profit from house selling: Most people buy real estate only to sell it at a higher price in the future. A home with stucco siding is fire and rot-proof, energy-efficient. Stucco siding enhances the aesthetics of the exterior making the house more pricey.
Budget-friendly: If you DIY stucco repair a small tear without looking into the larger problem, your house can get damaged permanently. Let professionals do it the right way.
Safety: climbing ladders to do major stucco repairs can be dangerous for your health. Hire contractors and let them do it with expertise.
Things to look for before hiring stucco contractors
Sincerity, Honesty, punctuality is indispensable when hiring a stucco contractor.
Look through their previous work endeavors.
Do research about products before hiring a stucco professional.
Discussing payment schedule in advance.
Ensure the contractor is insured and licensed.
Take your time and choose the professional who suits your needs.
The agreement timeline may change due to weather.
Keep records of all substitute and repair work.
Comply with the agreement's cancellation clause.
Conclusion
Real estate property can be a great investment if maintained right. Stucco repair is cost-effective, fire and rot-proof can hold up the aesthetics of a residence if done right by professionals with a limited budget. If you want to enhance the exterior aesthetic or fix stucco damage, hire stucco contractors near me through our website and get more info.