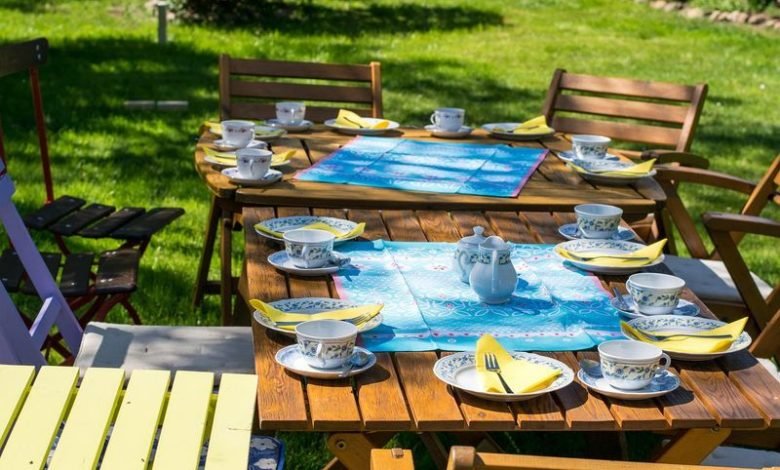 If you've decided that you want to use your garden space for more than just sunbathing this year, and have tidied it up ready for guests, then a summer garden get-together is great for both you and your guests. It's an opportunity to soak up the sun and spend time with those you love, but also enjoy the privacy of your own home space and put on a show with food, drinks, music, and summer vibes.
Why Host a Garden Party?
If you already have a beautiful garden space, or even just a yard, to enjoy this summer, why not enjoy it with friends and family? It's a great use of space you already have and a great option if you're looking to socialize while enjoying the warm weather and long evenings, but you might also be trying to save money and spend less by staying at home instead of going out.
A Quick Garden Party Checklist
Make a guestlist
Find a date that works for everyone
Check the weather!
Food and drink
Backup food and drink (it's better to have too much than run out!)
The perfect garden party playlist
Somewhere for everyone to sit or comfortably stand
Lighting
Your How-To Garden Party Guide
Let Guests Know What to Do When Arriving (or Put Up Signs)
This might depend on how big your property is, but if your garden is quite far away from the front door and you and your guests are going to be in the garden when the doorbell goes, your guests are going to need to know what to do when they arrive. Or maybe you'd rather guests come straight around the side of the house to the garden instead of walking through the house, in which case small signs saying "This Way" can be a great touch!
Set Your Garden Party Dress Code
Of course, you don't have to have one, and this all depends on how formal or informal you want your get-together to be. If you'd rather just have a casual gathering with friends and family, think casual summer attire like flowery dresses, patterned shorts, or loose shirts. If you don't currently have anything like this, it doesn't fit, or you want to try out a new style, then this get-together is the perfect chance to treat yourself and update your summer wardrobe – be sure to check out fashion sites like ericawilson.com for a great selection.
Be Sure To Have Options for All Weather
The perfect weather for a summer garden party is, of course, glorious sunshine – but you never know how quickly the weather is going to change. It sometimes even happens on the day itself. It's a good idea to have backup options for any weather should the worst happen, so you can still enjoy the gathering. Think about table umbrellas that can be put up or down, maybe even a marquee if your garden is big enough or options like an awning.
Think Carefully About Food and Drink
This will depend entirely on your guest list and also the kind of summer party vibe you're going for. If you're looking for a more formal sit-down meal, then you need to make sure you have a full course selection for everyone – including any allergy or food preferences – with extras such as starters and desserts and a formal selection of drinks to set the tone.
However, if you're on a budget – or all your guests prefer a casual party – then a great idea can be a barbeque-style party or finger-food.