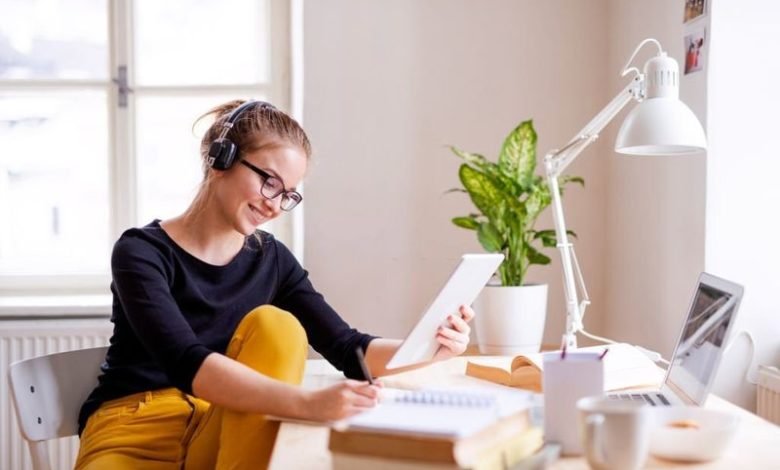 A study or home office is a valuable addition to any home but can often be more functional than inspirational. You don't need to spend a lot to give your space a whole new feel, so take on board these ideas and revamp your study without breaking the bank!
Soft Furnishings
Home offices can be dull and lacking in personality, so adding soft furnishings is an easy way to soften your workspace. Cushions and throws will add comfort and texture and needn't be expensive. Rugs are another great option and add warmth to a room that can otherwise feel clinical. Check out local selling pages online to pick up preloved bargains.
Flowers and Plants
Whether you opt for an elaborate bouquet or a collection of cacti, flowers and plants bring the outdoors into your study. By adding plants, you are stimulating the senses and creating a happier environment, which can lead to increased productivity – win-win!
Update your Devices
You don't need to blow the budget to update your laptop with cheap laptops at Lenovo providing reliable machines for every pocket. A printer is another worthwhile investment that can change the overall look of your space.
A Lick of Paint
You don't need to splash out to add a burst of colour. Buy a small tin of paint and create a feature wall or trim up the skirting boards and door frames with a bright shade to stamp your personality on your space.
Wonderful Wallpaper
Rummage in the bargain bins at the hardware store and find final rolls of wallpaper at a discount price. Use them to cover a single wall, an alcove, or the back of a bookcase to give your study a whole new vibe.
You've Been Framed
Adding art to the walls is a simple way to change the look of a room. Pick up framed pictures at thrift shops or garage sales and swap out any pictures you don't like for your favourite family photographs or art prints. If you have frames that are looking tired, consider spray painting them to give them a new lease of life.
Light Up the Dark
Lighting can change the mood of a room, so is the perfect way to revamp your home office. Desk lamps are fun and practical, with everything from the traditional Anglepoise to a retro lava lamp brightening offices the world over. Fairy lights add a touch of magic and coloured bulbs are fun and funky. Exposed filament lighting creates a warm, vintage feel perfect for those who work late into the night or burn a scented candle to bring a fragrant scent to the room. If you have pets, consider LED lighting instead of a naked flame. Whatever your preference, updating your lighting can bring a fresh feel to your study.
Get creative and you will find cheap and cheerful ways to spice up your office. Be brave, be bold, and stick to your budget – let your imagination run wild!
Must Read: