Health
5 Things to keep in mind during DrChrono Software Demo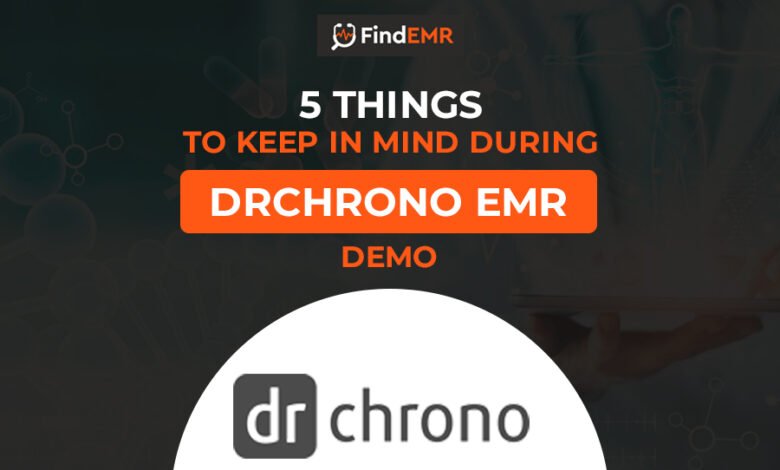 What started out to be known as EMR or EHR (electronic medical/health records) today is powerful software that carries many benefits for the practices that take them on. Not only does the average EHR help manage your patient records, but most software includes patient management, billing, and even patient and physician portals. One such software that stands out DrChrono EMR, and if you're looking to watch the DrChrono Software Demo, here are some of the features you need to keep an eye out for!
5 Things You Should Keep In Mind
1. Easy Check-In for Patients
The patient experience at your practice can be set up in such a way that it makes it easier for people to enter the clinic to check in easily. DrChrono EMR does the work to take information filled in by the patients when they enter your clinic and automatically update the system population. As patients come into the clinic, they can be given a mobile device such as a tablet or a kiosk set up where they can enter their information. Not only can this help you reduce the amount of paper-based information kept in the office, and will improve the overall efficiency of your practice.
2. Insurance Eligibility Checks
As you set up your finance department in your practice, where you deal with the billing and the insurance eligibility, you can cut on a lot of costs and time by having an EMR system that lets you check up on whether your patients are eligible for insurance in real-time as their information is added to the system. DrChrono EMR takes care of all of this and more, including helping you deal with issues such as claims, patient statement generation, and reported to the HCFA.
3. Customizability
Most medical practices offer some kind of specialized care that requires very specific information from patients, which can be entered into the EMR system to create informative patient records. Even though a specific EMR may state that it has been created to specifically target the practice field area that you are looking for, a way to test it is to check how the software system implements this flexibility.
The way that the DrChrono software demo exhibits this is through the availability of customizable forms and templates, as well as the option to take vitals according to your specified parameters to fit your practice specialty.
4. Integrated Patient Portal
One of the most important parts of maintaining a good experience for your patients is providing them with an online portal where they can find the most information regarding their visit to your practice. In order to get work done in a paperless format, you can shift the entire connection with patients online, and this will also prevent patients who miss appointments from missing out on important details they need to know regarding their medical health.
The portals can be used to send out automated emails such as reminders and can be used as a secure portal for communication. Always keep in mind, that the DrChrono EMR patient portal is HIPAA compliant, which means that any information shared on the portal is safe and secured in accordance with the law.
Also read: The Secret of Keeping Your Eyeglasses Clean
5. Data Storage and Care
An often neglected question that practices forget to pose to the EHR software they are looking into during demos is regarding data, how it is stored, cared for, and maintained. A good system, as you will see in the DrChrono software demo, will give you access to unlimited space options, automated backup plans, and the ability to move data around and view it from different devices and locations.
The software system is connected to a cloud system, which will allow for portability and mobility, and the greatest part is, whenever any of your physicians use the data in any way, it will be able to sync to the cloud data storage and update it automatically.
If permissions are shared properly, the right information can then be shared between staff members, patients, and more. However, this doesn't mean your older information is all useless now – an EMR system is of no use if it cannot save your prior information, perhaps even integrate it into your new system, so the data on your cloud is a combination of all of the information collected by your practice over time.
Is the DrChrono EMR the Right Fit for Me?
If you've clicked on this article and are looking for things to look out for in DrChrono, you are already in the right place. However, when you actually go ahead and watch the DrChrono software demo, you can make an informed decision about whether the software company works for your practice.