Travel
Weekend Trip to Ramnagar from Delhi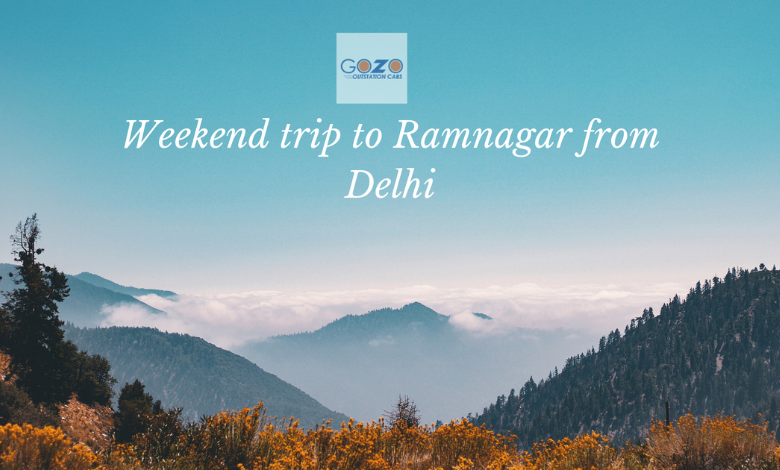 Well, we all wanted a short trip to get away from our daily hustle bustle of life. So in this article we have a short tour plan to Ramnagar from Delhi to leave the daily exhaustion of life and within 2 days you can cover the place. So, this place makes a great short trip platform for Delhi people.
In this article we will share on how to reach to Ramnagar from Delhi, places to visit in Ramnagar, where to stay, what to eat, etc.
Little about Ramnagar:
Ramnagar is a small town situated in the Kumaon region in Uttarakhand. Most importantly this place is the administrative place of Jim Corbett National Park. And this Ramnagar is the getaway to National Park that is Jim Corbett.
Apart of the administrative center this place also serves great natural view point for tourists and great trekking point to all trekking lovers out there. Though the place is a small town but it's rich Kumani culture will surely attract your heart and soul.
The local market in Ramnagar is a place where you can find beautiful and simple local products that you will surely cherish. Here you cannot find any fancy products but the local products will be worth visiting.
If you love to explore local villages and places then there are many local villages around Ramanagr where you can cherish and enjoy and also you can take some stunning village photos.
You can find various small outlets for eateries that makes local foods which are delicious to eat and also you can find many restaurants and hotels where you can eat.
How to Reach Ramnagar from Delhi
There are many ways to reach Delhi to Ramanagar. Delhi to Ramanagar is around 270 KM. There are buses, trains, flight, cabs that you can board to reach. In the next paragraph we will discuss in details for the mode of journeys.
Delhi to Ramnagar cab:
As the first option we have choose Delhi to Ramnagar via cab. As the road is around 270 KM long and the road is smooth and full of excitement. So if you love making a short trip by car then Delhi to Ramnagar via cab is a great option that you can choose. Moreover, you can take a trip with your friends, family and loved ones. And you can take a break as per your wish and can take a stroll to the roadside eateries.
You can book Delhi to Ramnagar cab with Gozocabs starting from INR 2600. Book with the most reliable and affordable cab service in India with Gozocabs. It will take around 4 to 5 hours to reach Ramnagar from Delhi via cab.
Delhi to Ramnagar train:
There are few trains available for Delhi to Ramnagar. Well, there are two to three trains available and will take 4 hours to 8 hours to reach from Delhi to Ramnagar via train. Please book your ticket in advance for availing a train. You can visit IRCTC website for booking train ticket.
Delhi to Ramnagar flight:
There are few flights that you can avail for your Ramnagar journey. It will take around 30 mins to 1 hours to reach Jolly Grant Airport from Delhi Airport. Jolly Grant airport is main airport in Dehradun and from there you need to hire a cab to reach Ramnagar.
You need to visit any flight booking websites to book your flight tickets in advance. There are flight booking websites like Makemytrip, easemytrip, etc
Delhi to Ramnagar bus:
There are also few buses available from Delhi to Ramnagar. You need to visit any bus booking website to book bus seat in advance. By bus it will take around 6 hours to 7 hours to reach Ramnagar from Delhi.
Wrapping up:
Well, this is the short description of a weekend trip to Ramnagar from Delhi. You can easily make a two days trip to Ramnagar. You can enjoy the Jim Corbett national park from here. You can also make a three to four days holiday trip includes only Ramnagar and Jim Corbett National park.
If you want to make a long trip then you can cover Ranikhet, Bhimtal, naukuchiatal, bhowali, Nainital, etc and enjoy the mystic scenarios and places in Uttarakhand. Well, please stay with us for more articles. I hope you love the article.