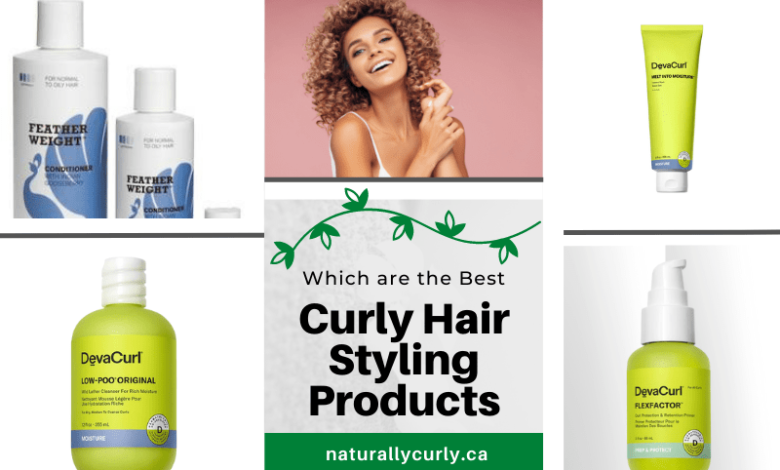 In the wake of the numerous curly hair products on the market, and not to mention your personal preferences, hair needs, and curl type, it can be challenging to choose the right product.
Make your curls more defined and structured by using products that will tackle frizz, dryness, and tangles. Using the best curly hair styling products, from serums to creams, and even shampoos and conditioners designed specifically for curly hair, you can smooth and define your unruly ringlets.
What to Look for in Hair Products for Curly Hair?
With curly hair types ranging from waves to coils, there are products to fit every type. Because curly hair tends to be dryer than straight hair, you need to nourish it when you wash it. Look for sulfate and paraben-free naturally curly hair products and shampoos, including moisturizing oil cleansers and shea butter shampoos.
Choosing the right shampoo and naturally curly hair products can be a challenge for everyone, so getting expert advice is always helpful. If you have curly hair, you might also want to consider these top hair products to moisturize and add shine to your curls.
1. Moroccanoil Curl Defining Cream
In addition to defining and separating your curls, this all-in-one product eliminates frizz and harnesses the power of the world-famous Moroccan Argan oil. Plus, it works as an excellent conditioner to leave your hair feeling soft and nourished. Simply apply one or two pumps while your hair is damp and rub your fingers through. If you would like a more defined look, you can also use a hairdryer with a diffuser attachment.
2. Original Moxie Intense Quench Deep Conditioner
Hair care products from Original Moxie are cruelty-free and suitable for all types of hair. This Original Moxie conditioner contains botanicals, herbal extracts, proteins, and emollients that provide intensive hydration to the hair while encouraging strong growth from the inside out. Hibiscus also promotes shine. In addition to a spa-like experience, it strengthens, nourishes, and softens your hair. Give your thirsty hair what it really needs – gloss.
"If you are looking for the best curly hair styling products, you should definitely check out www.naturallycurly.ca. They have the best curly brands all together in one spot for easy shopping."

3. DevaCurl One Condition Original Rich Creme Conditioner
Curls with dry, medium to coarse textures will love this DevaCurl Rich Creme Conditioner with a moisture-preserving blend to fight frizz, control tangles, and keep curls soft, bouncy, and moisturized.
Be proud of your curls. With Curl FlexibilityTM formulas, DevaCurl hair products help maintain moisture and shine for healthy-looking curls, no matter how your hair is styled (natural texture, braids, twists, knots, or blowouts).
4. DevaCurl – The Essential Repair Starter Kit
In addition to repairing broken bonds, DevaCurl – The Essential Repair Starter Kit enhances curl strength and provides protection against future damage. Developed with dermatologists, backed by science, and approved by stylists, DevaCurl products maintain moisture and shine for healthy-looking curls. This product is a must-have. Designed to provide a foundation for healthy-looking curls, these cleansers, conditioners, and styling essentials are carefully curated for fine waves, curls, and coils.
5. Kevin Murphy's Love to Love Your Scalp
One of the best Canadian hair products is the Kevin Murphy Scalp Spa Collection, which features the latest technology in total scalp therapy. The key ingredient in all SCALP SPA products is Celery seed extract, which is effective in soothing and moisturizing itchy scalps as well as helping to regulate sebum production.
YOU MIGHT ALSO LIKE:
Safely Deliver Products to their Destination Using Custom Boxes for Shipping
6. Royal Locks Curl Cream Gel
With this hybrid formula from Royal Locks, you can enhance your curls while smoothing, repairing, and moisturizing your mane as well as holding curls in place.
7. Hask Curl Care Moisturizing Shampoo
Since Hask products are paraben-free, sulfate-free, and phthalate-free, they're an excellent choice for curly hair. The shampoo fortifies curls while removing hair and scalp build-up with a blend of moisturizing ingredients like vitamin E.
8. Tresemme Pro Pure Damage Recovery Sulfate-Free Shampoo
With the help of this strengthening shampoo, those with dry or damaged hair can restore strands and remove oil build-up from the scalp. Additionally to its great smell, testers enjoyed the way the product made their hair "feel moisturized" while washing.
Wrapping It Up…
In conclusion, using chemical-free naturally curly hair products specifically designed for your hair type will help you maintain healthy hair and bid bad hair days goodbye! Looking for effective hair care products? Check out our collection of Canadian hair care products today and experience the shine and strength your hair deserves.