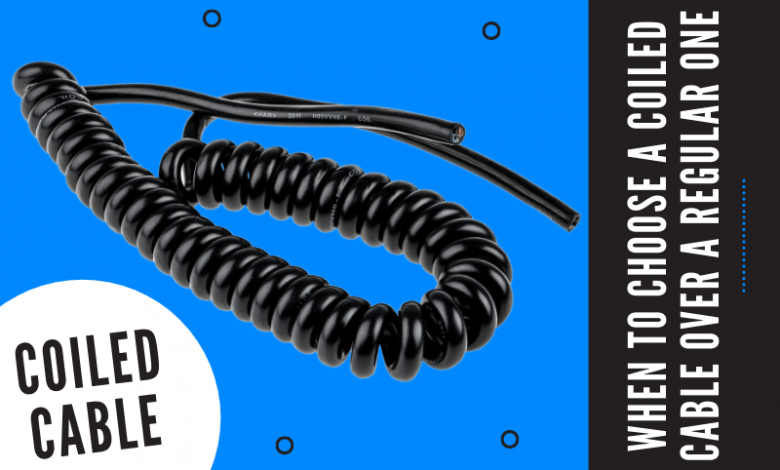 When working with cables, there are plenty of options to choose from. To ensure that you're getting the most out of your equipment and achieving the highest possible standard of work, it's important that you know which cables to use for which jobs.
In some instances, a coiled cable can offer great benefits compared to regular cable options. A coiled cable can be used for a range of different tasks, projects, and industries, offering functional design and long-term durability.
Here's what you should know to help you decide when a coiled cable is the right choice.
What is a coiled cable?
Coiled cables are best known for their association with landline phones, but these cables can also be used for many other purposes.
Designed with wire coating and plastic insulation, coiled cables are a sturdy, durable cable solution. They feature spring coil cabling that allows them to stretch and retract as needed without causing damage to internal wires.
Today, coiled cables are used across a wide range of industries, with different types offering different benefits and applications. Some coiled cables can be customised for specific uses. For construction use, cables can be coiled different for electrical safety. For outdoor installations, cables can be enhanced with UV inhibitor technology.
Benefits of using coiled cables
There are a number of benefits to using coiled cables over regular varieties. Coiled cables are designed to extend and retract, meaning that they can stretch long distances when needed without taking up excessive space when not in use. This is ideal for use in compact spaces.
Coiled cables are also highly durable. Well-made coiled cables can be stretched time and time again without causing damage or compromising cord function. These are made with plastic insulation and coating materials that allow cords to last for long periods of time, even when they are used or moved frequently. This makes them a cost-effective cabling choice.
In addition to these benefits, coiled cables are versatile. They have diverse applications across many different industries. Their durability and flexibility make them a good option for a range of cabling purposes.
When to use a coiled cable
Coiled cables are the right choice for many tasks and installations. The options really are limitless!
These cables are commonly recognised as phone cords, and they continue to be a popular choice for telecommunications purposes, even in a world that has mostly moved beyond landline phones. Coiled cords are also commonly used for car chargers, electric instruments, and construction installations.
When you're working on a cabling task, it's important to think about the functions cables will need to perform. Do cables need to fit in a small space? Will they need to be far-reaching and retractable? How durable do you need them to be?
Answering these questions can give you a clearer sense of your cabling needs. If all of these questions are met with a resounding 'yes,' a coiled cable might be your best option.
RS Online provides high-quality coiled cables to suit all kinds of cabling projects. Visit the store online!