Home Improvement
SITUATIONS THAT INDICATE ITS TIME TO CALL PROFESSIONAL CARPET CLEANERS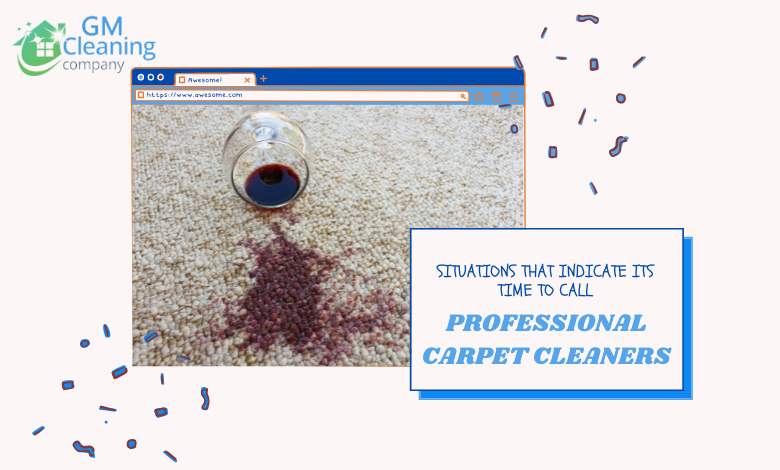 Professional carpet cleaners are equipped with adequate cleaning tools and equipment that we often don't have access to. However, even if you buy any high-end equipment, it will require the necessary knowledge and skills to use it. Besides, you will also need the funding to invest in the equipment and ensure the maintenance of the device. The equipment used for professional carpet cleaning includes UV lights to spot deep-rooted stains and pet odors. The equipment will also be equipped with heavy steam or hot water extraction system to provide professional deep cleaning.
SIGNS THAT SAY YOU NEED TO CONTACT PROFESSIONAL CARPET CLEANERS IN SCARBOROUGH
Carpets are one of the few crucial investments we make in our home or office. They add style and luxury to any space. Notwithstanding, it is crucial to remember that carpets trap dust and bacteria that can lead to serious health issues if overlooked.
It is crucial to adhere to the manufacturer's guidelines for the proper care and maintenance of the carpets. For example, people often think that routine vacuuming is sufficient. But, it is incorrect. Infact, you need to be more thorough in addressing the problems causing issues to your carpet.
It is ideal to opt for professional carpet cleaning services to tackle the roots that can cause health hazards.
A few words you should know about professional carpet cleaning.
Professional carpet cleaning is the process often performed by a team of expert cleaners. Experts have the proper knowledge and skills and can adapt to various kinds of carpets. In addition, their expertise makes them capable of eliminating as much dirt and dust from the carpets as possible with the adequate tools and equipment they possess.
Professional carpet cleaning companies are worth hiring.
It is always good to vacuum your carpets at least once a week to maintain and reduce the accumulation of dirt. But, it is also essential to get your carpets cleaned professionally. A thorough cleaning can resolve various issues that regular vacuuming often cannot. Where regular vacuuming lowers the dust buildups, professional carpet cleaning will make your carpets look cleaner, fresher, healthier, and less susceptible to allergens.
Also read:
Professional carpet cleaners are a must in certain times of emergency.
Many signs pin down that it is time to call a professional carpet cleaning company immediately.
Having children or pets at home: Kids are fun to have, but being parents, you are aware of the mess they could make. Carpets can quickly catch stains from the dirt and spillages may they be big or small. Besides, they can also get damaged by kids playing indoors and moving around from one room to another. Kids are more prone to get influenced by dirt and contaminants with their bare feet or shoes. Regular steam cleaning is a great option to give your house interior a clean, fresh, and safe environment. Secondly, if you have pet(s), they leave their fur, spills and paw prints everywhere they move. Getting rid of these messes can be a challenging job. However, having expert carpet cleaning services is highly recommended.
Allergies that are strange and sudden: Is anyone in your house feeling oddly ill? It could be asthma or some allergy. Carpets are a reservoir of pollen, dust, microbes, and various other harmful pollutants. However, they cause various health-related issues. Expertly performed carpet steam cleaning services are ideal for resolving this issue since it reduces allergens by circa 98 percent.
Some accumulation of stains are difficult to eliminate: Some stain accumulations could be challenging to get rid of from the carpets. Professional carpet cleaning experts can eliminate any stains, even the most difficult ones. Having experts is the best thing since you don't need to clean every single spot for hours.
A celebration or event is just around the corner: Entertaining guests at home is overwhelming. However, there shouldn't be any reason to avoid inviting your family and friends. Expert carpet cleaners in Scarborough will make your carpets look and feel more comfortable and welcoming. Experts' services will not only save you time but will also make your rooms look more appealing than ever.
It is time to overhaul your house: At a certain point, a building interior will need an overhaul. Nevertheless, it is crucial to hire a professional carpet cleaning company while remodeling your house. Expertly done deep cleaning can give your rooms an entirely new look and make them more inviting.
Carpets need to be kept in good shape: New carpets are often expensive to purchase. This investment is worth protecting by maintaining the longevity of the carpets. However, you can have the best protective measures by getting help from a reliable carpet cleaning company. Professional companies will make sure you are treated with the finest quality services.
You will never want to have a void warrant: Costly items often come with certain warranties. Look over your carpets' warranty. It will be valid only if your carpets are cleaned regularly and well-maintained. However, it is ideal to call professional carpet cleaners at least once every 12 to 18 months to maintain the warranty.
Basic consideration
Regular vacuuming the carpets on your own is acceptable since it is excellent to get rid of the dirt and debris upto a certain level, keep the carpet clean, and ensure hygiene. But, it is equally important to opt for GM cleaning services to employ an expert cleaner to resolve any issues that might arise shortly. The best thing about having these services is that experts services are often lasting and can provide your carpet with a completely fresh look.
Once you employ a professional carpet cleaning company, you can stay assured to have experts by your side who are well-educated and know the proper ways to deal with specific circumstances, like, difficult stains, water damage, the type of treatment required, and everything that can make your carpet as beautiful as before.