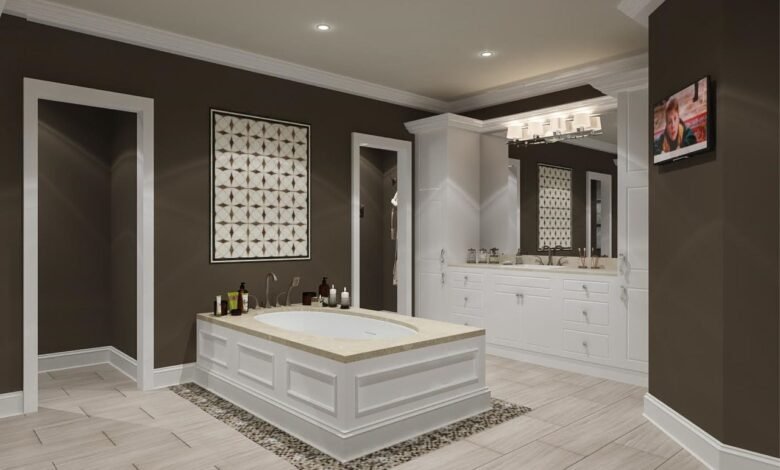 Homeowners usually remodel their bathroom area as it can completely change the look of the space. No one will want to have an outdated, old-school bathroom. People nowadays are looking to have a contemporary style space equipped with all the necessary elements. However, renovating the bathroom area is one of the economical ways of enhancing the value of your property.
Tips For Bathroom Renovations
Bathroom remodeling tends to be one of the considerable investments people make in their homes. Many house renovation companies offer cost-effective services with effective results. No doubt, the project requires proper planning and precise ideas to get the result as expected. Whether you are planning to update the entire area or just some specific spots of it, it is vital to follow the right steps. A well-planned project will not only help you prevent unnecessary spendings but will also not maximize the budget you already have estimated.
Why do you want to remodel your existing bathroom?
Before you plan to work out your bathroom renovation process, the foremost thing you should do is to evaluate the reason for it. Is it merely for expanding the area while you no more are interested in having an outdated bathroom? Or it is to enhance your property value? There are various reasons to renovate the bathroom or any other area of your house. So, it is essential to assess the right goal for redoing your bathroom space before starting up the project. For many people, functionality is the reason to renovate their bathroom areas.
Budget is next to nothing
The dollars you invest in your bathroom redoing project depends on your specific needs. How much can your pocket bear on a renovation project? It is vital to estimate a budget before beginning. However, when budgeting it is good to consider the cost of-
Material and finishes: vanity tops, stone, etc
Fixtures and fittings
Ventilation and lighting
Essential accessories, bath mats, towels, etc.
Plumbing, painting, labor
Shortlisting the type of changes helps in estimating the project cost.
The end result of your bathroom renovation project depends not only on the budget but also on your preferences. Devote a little bit of your time in shortlisting the changes you want to see in your bathroom. Well, there are various trendy fixtures and bath accessories that you can list down. For example-
Installing shower and basin
Installing trendy fixtures and accessories
Tiling the bathroom walls and floor
Hanging wall curtains and mirrors
Coloring the bathroom walls with unique and contrasting hues.
Fixing newfangled vanity and cabinets
Shifting wall position in the view to increase the bathroom space
Making the space brighter with extra lights
And more.
Do proper research and shortlist all essential changes you want to see in your bathroom.
Professional help is a must
Once you have shortlisted what changes you want to do, prepared your budget, and settled a deadline, it's time to research for a professional bathroom remodeling contractor. Signing an expert contractor is essential since the result of your project hugely relies on them. It is not something you can do by yourself since you will not have the right technique, skills, and tools.
However, the best resource to kick start is the internet. For example, key down "bathroom renovations Mississauga" or "bathroom contractors near me" and you will get thousands of bathroom remodeling companies and fixture suppliers established on the online market. Pen down the best three to four companies, navigate through their websites to check their experience and ratings, collect quotes and compare their prices; this is what you need to do while contracting with a professional company. Don't overlook the reviews posted by past customers.
Besides online research, you can also collect referrals from your closed and known ones; may it be your family members, friends, colleagues, or neighbors. Bathroom remodeling is not an ordinary project but a long-term investment that if done correctly, can enhance the value of your property. So, make a careful choice without rushing into making the wrong hiring decision.
Have a proper time frame
Renovation projects are complicated and can take months to complete. So when planning to redo any space of your house, it is essential to consider having a proper time frame. It can, however, help you complete the project at the earliest possible.
Collect a set of design ideas
Consider choosing a set of your favorite trendy design ideas. Not only you, but the pre-collected design ideas will help the team of bathroom remodelers convert your vision into reality in the best possible way. To collect the design ideas, you can review a couple of best home decor magazines or navigate through the internet. Do your homework to help the team of designers beautifully sketch your actual plan.
Ultimately, complete the project with final inspection
Once the bathroom renovation project gets over, examining the work is essential. No doubt an experienced company will do its best, and regarding the work quality, you will be checking it all through the ongoing project. Still, a final inspection will help you check whether everything is done correctly with no damages or errors. It is good to verify that the end result fits well with your expectations.
So, once you have decided to change the look of your existing bathroom, plan out everything carefully. Yes indeed! The idea of remaking any space of your house seems intimidating, but once the project gets over, you will love the incredible work done. The only thing you need to do is to set up an effective plan, review the tips carefully, and ultimately follow the "bathroom contractors near me" option to hire the best team of contractors.