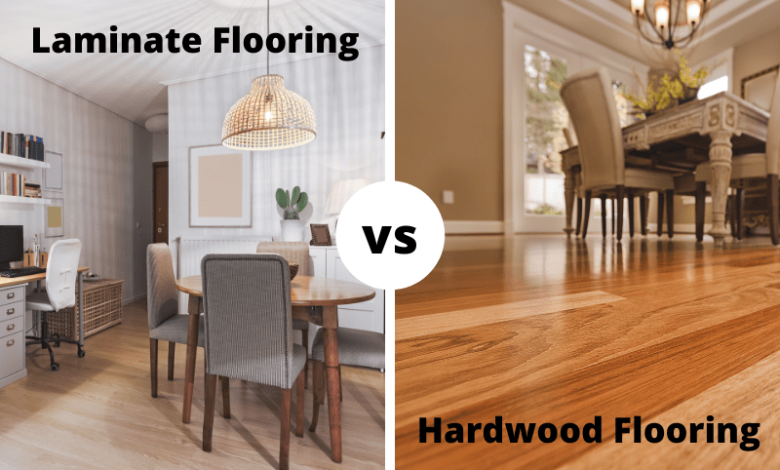 Flooring is the groundwork of any property. It is the very first thing visitors see while stepping inside. Fortunately, there are many options available if you plan to replace your house's flooring. Hardwood and Laminate are the two most popular flooring options. Their warmth and value-boosting properties make them today's favorite flooring options.
Laminate vs. Hardwood Flooring: What's the Difference
Flooring is among the most vital features of a home's interior. Wood flooring is still considered the most popular choice for being the most timeless, inviting, and beautiful flooring material today. Many traditional homes have original hardwood flooring. However, Laminate is increasingly growing in popularity for newer constructions. Laminate flooring is an imitation hardwood that offers a space a wood-like natural look at an affordable price. Aesthetically Laminate and hardwood look similar, but each comes with specific benefits and drawbacks. Before you make this major, long-term investment, it is good to be better acquainted with the pros and cons of each flooring option. There are many aspects to consider when comparing the benefits and drawbacks between Laminate and hardwood flooring. Certainly, Laminate is more economical than hardwood when it comes to cost. Notwithstanding, you should also consider the appearance, cost, durability, repair, and type of flooring space in your house. Let's review the benefits and drawbacks of laminate and hardwood flooring based on:
Appearance
Without a doubt, hardwood flooring aesthetically looks more stunning than laminated flooring.
Appearance: Hardwood Flooring
The natural texture of hardwood flooring makes it more attractive and appealing for many homeowners. Many hardwood flooring options are available of wood types, finishes, and shapes. On the other hand, hardwood floors can get scratched if not maintained properly. Besides, some hardwood floors can easily fade if exposed to direct sunlight for long.
Appearance: Laminated Flooring
Laminated flooring is less likely to develop scratches than hardwood floors and can last for years. Notwithstanding, laminated flooring doesn't appear to be genuine. It is synthetic, and the design generally mirrors the look of wood.
Cost
The flooring costs can differ based on the tile type and floor size. Consider the cost of hardwood and laminate flooring to decide the right option for your flooring.
Hardwood Flooring, including installation charges, can be as expensive as five to ten dollars per square foot. Since it is manufactured from harvested trees, the pricing varies based on the type of wood you choose. It is often more expensive to buy and install.
Laminated flooring contains composite wood pressed at high temperatures. It is created by covering the composite wood with an image of hardwood. Laminate wood installation is fifty percent cheaper than hardwood when it comes to expense. The laminate flooring cost, including installation, can range from three to seven dollars per square foot. As already mentioned, the price can vary based on the material used and your overall flooring space.
Durability
Considering the amount of foot traffic and wear on your flooring, laminate flooring is more durable and easier to maintain. But is laminated flooring more lasting than hardwood?
Hardwood is stunning and adds a significant value to a house based on its style. Notwithstanding, hardwood flooring is prone to scratching and can get damaged by excessive moisture. Besides, it can also show wear signs, particularly in high traffic areas.
Laminate is created from pressed wood. However, it is stronger than hardwood and is scratch, moisture, and wear-resistant. In addition, it is also easy to clean. Even if more durable, laminate flooring visually is not as appealing as hardwood. It comes with lower quality, artificial wood grain-like texture.
Repair
Your home flooring is likely to make you research the best hardwood and laminated flooring company near me at some point. Both come with precise pros and cons, ranging from minor accidents to more severe wear and tear.
Repair: Hardwood Flooring
You can get hardwood flooring repaired by sanding imperfections and refinishing with the help of professional hardwood flooring contractors Rosedale. It is more durable than Laminate.
Repair: Laminate Flooring
Laminated flooring is complex to repair. It is possible to replace individual laminate boards if you purchase the flooring in pieces and snap it together. However, it hugely depends on the natural sunlight and the flooring age. The possibility is that the new piece you buy may not match properly.
Best Rooms
The ideal place for both types of flooring is equally important to consider in addition to the durability, costing, and repair.
Best Rooms: Hardwood Flooring
Hardwood flooring is a lasting and beautiful option to give your house a traditional look. It is particularly suitable for lower-traffic spaces like the dining room or bedroom. Moreover, hardwood floors are likely to experience scratches and wear and tear over time if you have pets or high foot traffic. Spaces like bathrooms and basements are often moist. However, these spaces are also not suitable for installing hardwood flooring. Besides, hardwood floors can also get faded if exposed to direct sunlight.
Best Rooms: Laminate Flooring
Laminated flooring is strong and enduring. It is less prone to wear and tear and can withstand pets and high foot traffic. It is more resilient to moisture than hardwood flooring but still, make sure you don't install it in a regularly wet area. Laminate is safe to install in a large room with huge windows and lots of sunlight because it comes with a sunlight-resistant topcoat.
The bottom line
Hardwood and Laminate flooring types come with their strengths and weaknesses. Although hardwood flooring is pricier than laminated flooring, they are far cheaper for maintenance and durability. Laminate flooring is less likely to experience fading or scratching than hardwood flooring. Moreover, repairing may involve redoing the entire flooring by employing professional laminate flooring contractors Rosedale. Indeed, pets, kids, and traffic is likely to influence your decision. However, consider your individual choice and lifestyle, and weigh the benefits and drawbacks of each flooring option before choosing the most suitable flooring.