Technology
HOW MOBILE APP DEVELOPMENT CAN IMPROVE YOUR MEDICINE BUSINESS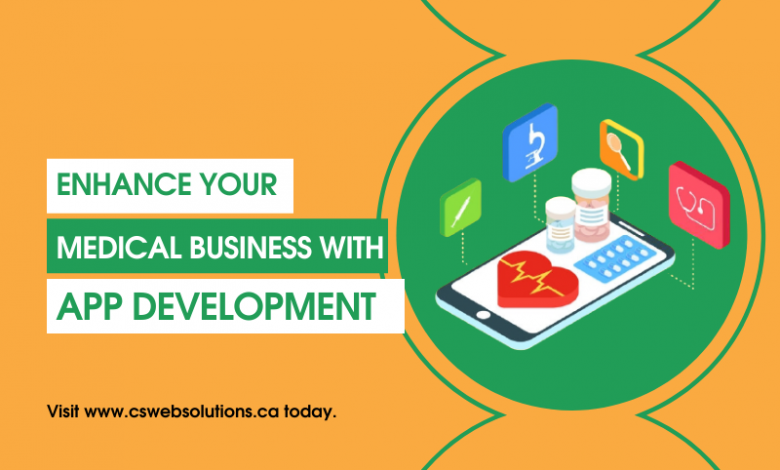 Medicines are among the essential needs. This need has paved the way for android and ios app development in Toronto for pharmacy stores to deliver the medicines to the customers' doorsteps. Sometimes, people need to wait for long periods at a medical store to get their prescribed medicines. However, mobile app development services came into play to resolve the matter.
ENHANCE YOUR MEDICAL BUSINESS WITH APP DEVELOPMENT
In today's day and age, many healthcare, pharmacies, and other medical establishments have started embracing the mobile app development process to develop effective communication with their customers. The ever-increasing medicine demand is making it difficult for offline retail, medical businesses to cope up. The online delivery services for medicines have helped people save the time and efforts they otherwise had to spend visiting local drug stores to get their prescriptions.
These medicine delivery apps are the turning point in the pharma industry since they allow customers to get their required medicines right to their doorsteps within two to three days or on the same day. With many medicines available for various health conditions, people can scroll through the list and purchase the one that best suits their needs.
Here are a few tips you can consider if you are planning to choose the right mobile app development company to discover how mobile app development can improve your medical business.
Market Trends
Coronavirus has led to the biggest growth in the health and fitness industry. The pandemic has left the e-pharmacy industry struggling in various ways. Nevertheless, the need for online medical shops is growing exponentially.
Besides, the e-pharmacy market is expected to grow even more and more by the end of 2025. It is also expected that mobile health app usage will rise to more than 100 billion by 2025 ends.
Business Models
Single store, medical delivery, and direct to the customer; are the three models of medicine delivery mobile app. It is up to you to determine which modes will suit your company and incorporate it into your mobile app.
Single Store: In a single store, customers order the required medicine by showing their prescriptions. Getting the medicine list, the retailers check if the prescribed medicines are in their stock. If available, they deliver the medicines to the customer. You can pay the billing amount online through Net banking or any other online payment method through this model.
Medicine Delivery: Through this model, online pharmacies can collaborate with other local drug shops instead of maintaining the inventory of their medicines. As a patient places an order, the app will search for the nearest drug shop where one of the shop employees will examine the customer requirements and have the medicines packed and delivered right to the customers' doorsteps.
Direct to Consumer: This business model is good where an app for medicine delivery doesn't have any middleman or other supplies. Through this model, you can gain better and greater control over your business by developing direct communication with your customers.
Also read:
Benefits of Medicine Apps
Mobile app development for medicine delivery is convenient to the users. It facilitates people to scroll over various medicines and buy the required ones based on their health condition and prescription. A few of the pros of having a medical app are listed here.
Saves Time: People don't have to drive to and from the pharmacies seeking a certain medicine. Instead, they only place the order from the comfort of their couch, and the online drug store will deliver the list right at their doorsteps.
Availability of Medicine: Users connect with the e-pharmacies through push alerts. Besides, they get periodic updates about the availability of medicines or medical equipment.
Discounts and Offers: Medicine mobile apps provide users with significant savings, which they often do not get by brick and mortar medical stops.
Consultation from expert physicians: In addition to checking the availability of medicines, users can also consult expert physicians to discuss their medication or any side effects they might need to worry about.
Better Customer Experience: customers praise the peerless experience they get from the premium services they receive from online stores and shopping apps. The services range from scrolling the list, placing an order, paying the charges, and receiving the products right at their doorsteps.
New Schemes & Offers: Online shopping apps and sites keep offering new offers and schemes to attract more and more customers. The availability of new Schemes and offers is one of the ultimate marketing strategies.
Authenticated Customer Base: A well-established customer base can be accomplished by satisfying customers' needs. And customers' are satisfied and happy if they can fulfill their needs from the comfort of their place.
Availability of Alternate Medicines: With a medicine delivery app, people can scroll through the vast medicine list to find alternative medicines for their specific health condition they cannot get from the physical store.
No Geographical Limitations: Physical stores are limited to a specific geographic area. Your mobile medicine delivery app will help you expand your business and reach your customers effortlessly across your country, even in remote areas.
Expanded Reach: A physical shop will have the rush of local nearby customers only. But, an aspiring React Native app developer, for example, can help you enhance your medical business by attracting new customers from all over the country by creating an innovative medicine delivery app.
In the Nutshell
Mobile apps are the norm these days. Every business is getting into the world of mobile app development. People are now increasingly turning towards digital media and prefer to fulfill their day-to-day purchases from the comfort of their homes. However, you must step into this digital world by creating an innovative medicine delivery mobile application and stay ahead in the curve.
The medical business is among the most crucial businesses that will keep growing endlessly. Moreover, medical apps have gained vast popularity in the app markets. So, to enhance your medical business, it is crucial to choose the right mobile app development company that can not only help you create an app but also offer other services like website app development, web design and development, SEO, SMM, and more to help you reach the new heights of success.