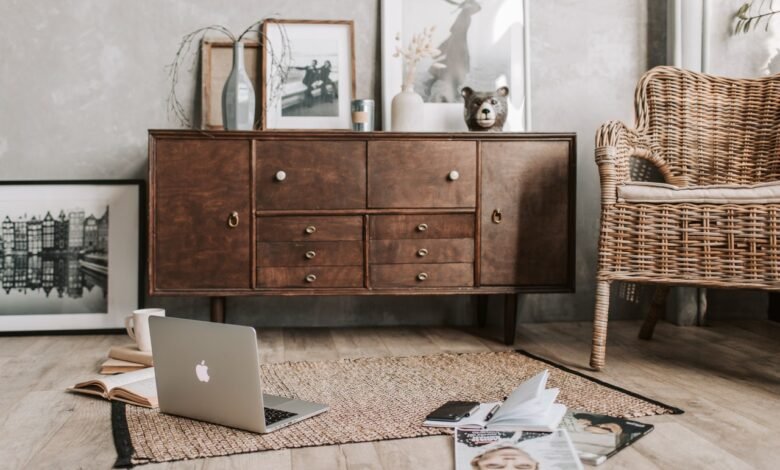 Most buyers looking for a curio cabinet begin their search from a china cabinet. Most of them misunderstand the differences between the two just because these cabinets share certain "similarities." There are hundreds of cabinet designs that you should explore.
For instance, china cabinets feature a solid wood set-up with glass door panels in the front for display purposes. Curio cabinets, however, have glass panels on the front and the sides, meaning that the buyer can display not just glassware and crystal ware but also trophies and small collectible items.
Before choosing a Modern storage cabinet, you must understand a few words in furniture designing. For instance, have you heard of sideboard, or buffet, or server?
You must be thinking, "So what are these terms and how will they help me buy a trendy curio cabinet?"
Let us explore the world of cabinets.
Sideboard Cabinets:
These are short-legged curio cabinets with an espresso finish. It usually accompanies a dining table and serves the purpose of storage as well as lighting. The sideboard cabinets are no taller than your waistline.
Buffet:
Slightly taller than the sideboard cabinet, it is distinguished by its higher leggings.
Credenza:
Often flanking a central cabinet, credenza is an antiquated sideboard concept serving as a buffet counter in modern homes.
Hutch:
A set of shelves or cabinets, with a counter to keep objects on the level, and flanked by drawers on the sides and at bottoms, a hutch is an exclusive American furniture word.
Hoosier Cabinet:
A cabinet with three distinct parts, Hoosier is distinguished by its large countertop, slide-out shelves, and numerous drawers. It even has two or more drawers affixed to its underside for more storage.
Chest of Drawers:
Also called Low boy, this cabinet has multiple drawers affixed horizontally, one over the other in a parallel design. It is often used as a wardrobe cabinet, and it also holds pickles, jams, and other preservatives in the kitchen.
Commode Cabinet:
Derived from the French word for "convenient," a commode is a veneered case cabinet that often holds a large-sized glass mirror. It can double up as a dressing table cabinet too! Surprisingly, royal families designed movable commodes, which bore the idea of the first Western-styled commode lavatory!
Tansu:
A Japanese cabinet word that resembles a butler's pantry serves as storage for miscellaneous items, including non-perishable food items. Modern houses have a refrigerated Tansu, called California cold pantry.
Clock Cabinets
A play of metal and wood, clock cabinets are distinguished furniture items from the Victorian Era. Loved for its curio appeal, clock cabinets feature oak, cherry, rosewood, and Maplewood finish.
Modern Cabinet Styles
Depending on your choice of cabinet design, each of them can be styled with traditional motifs. For example, carved accents and inlays go well with Clock cabinets, while pilasters and pediments look enticing on the chest of drawers. Modern furniture trends experiment a lot with asymmetrical lines and unique geometric designs. Styling inspiration comes from distinct furniture designs like Mission, Shaker, Scandinavian, French, and Early American Colonial.